Welcome to South Metro Carpet & Upholstery Cleaners.
I'm Shawn O'Hern, the owner and operator of South Metro. I started South Metro in the spring of 2002 after ten years of working for one of the largest carpet and upholstery cleaners in the metro area. This has given me nearly 20 years of experience in cleaning industry.

Many carpet cleaners say the key to running a successful business is "repeat customers." I try to take that a step further. I feel the key to South Metro's success is "loyal customers." What's the difference?
A loyal customer is someone I have provided great cleaning and customer service at a competitive price. When I leave their home I'm their personal carpet & upholstery cleaner. When they receive coupons or phone calls from other companies that make offers that sound too good to be true, or a friend brings up carpet cleaning in a conversation, there is only one person that pops into their mind. Shawn with South Metro!
I run an "Owner Operator" company. Which simply means, I run everything from taking incoming phone calls, scheduling, cleaning and of course paying the company bills. With me you don't get lost in the shuffle, which often happens with big companies. There is no shuffle, it's just me. Plus you always know exactly who will be showing up at your home. Click here to see the areas of the metro that I service. Being an owner / operator gives my loyal customers peace of mind, and it eliminates the guess work in shopping for a trustworthy, experienced, and reasonably priced carpet and upholstery cleaning company.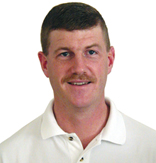 I hope you find this website helpful in answering any questions you might have about my services. If I can be of further assistance, or you would like to schedule service, or receive a price quote - please call or email me with a phone number. I'll call you back as soon as possible. I know the internet is a great way to connect with you and spread the word about my business. But I guess I am a little old fashion when it comes to communicating with my customers. I prefer to talk one on one. A phone call will be the best way to contact me.
Thanks for considering me as your carpet and upholstery cleaning specialist.
Shawn
© 2019 South Metro Carpet & Upholstery Cleaners, LLC.